Kyoto Animation announced today that the light novel Violet Evergarden will be receiving an anime adaptation.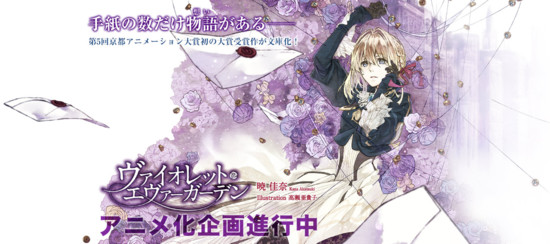 Synopsis:
"Auto Memories Doll.
It's been quite a while since that name caused a fuss. Originally invented by Professor Orland solely for his beloved wife, Auto Memories Dolls eventually spread out into the world, and a machine that allows people to rent out the dolls was also created.
'I will run as fast as I can to wherever my customer desires. I am the Auto Memories Doll, Violet Evergarden.'
A girl who almost appears to have popped out of a fairy tale with her blonde hair and blue eyes said this with her inorganic beauty and sweet voice."
No timetable has been announced for its release.  We eagerly await more news!
Here's the preview that was released. It has english subtitles:
Latest posts by Logan Rogers
(see all)